Francois J. du Toit M.D.
Family Medicine
Lawton Oklahoma
4411 W Gore Blvd. Ste B-6
Lawton, OK 73505

Ph. 580-699-7500

Fax 580-699-7501

Hours:
Monday thru Thursday: 8AM-5PM
Closed 12PM-1PM for lunch.
Friday: 8AM-12PM

After hours
call: 580-355-8620 (CCMH)
Family Medicine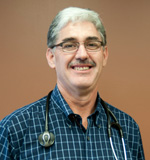 Francois J. duToit M.D.
Francois J. duToit M.D. graduated from the University of Stellenbosch in his home town of Cape Town, South Africa in 1985. After completing his medical studies, he served as a medical officer in the South African Military Health Service for two years. He arrived in Southwest Oklahoma after practicing family medicine in South Africa, England and Canada.
Dr. duToit served the Frederick community from 1994 to 2005 and then moved his medical practice to Lawton in 2007 after completion of his medical residency at the University of Oklahoma. He believes being Board Certified and a member of the American Academy of Family Practice provides the best opportunity to offer comprehensive and long-term health care to his patients that range in age from birth to currently 106 years old.
Dr. duToit has a special interest in chronic disease management (diabetes, high cholesterol, high blood pressure, COPD), non-surgical management or arthritis of the joints, skin surgery including mole removal, wart treatments, cyst excisions and pediatrics including well child examinations and vaccinations.
---
Kim Turnipseed, FNP-C